Modeling rare gene variation to gain insight into the oldest biomarker in autism: construction of the serotonin transporter Gly56Ala knock-in mouse
Journal of Neurodevelopmental Disorders
2009
1:9020
Received: 19 March 2009
Accepted: 25 May 2009
Published: 9 June 2009
Abstract
Alterations in peripheral and central indices of serotonin (5-hydroxytryptamine, 5-HT) production, storage and signaling have long been associated with autism. The 5-HT transporter gene (HTT, SERT, SLC6A4) has received considerable attention as a potential risk locus for autism-spectrum disorders, as well as disorders with overlapping symptoms, including obsessive-compulsive disorder (OCD). Here, we review our efforts to characterize rare, nonsynonymous polymorphisms in SERT derived from multiplex pedigrees carrying diagnoses of autism and OCD and present the initial stages of our effort to model one of these variants, Gly56Ala, in vivo. We generated a targeting vector to produce the Gly56Ala substitution in the Slc6a4 locus by homologous recombination. Following removal of a neomycin resistance selection cassette, animals exhibiting germline transmission of the Ala56 variant were bred to establish a breeding colony on a 129S6 background, suitable for initial evaluation of biochemical, physiological and behavioral alterations relative to SERT Gly56 (wildtype) animals. SERT Ala56 mice were achieved and exhibit a normal pattern of transmission. The initial growth and gross morphology of these animals is comparable to wildtype littermate controls. The SERT Ala56 variant can be propagated in 129S6 mice without apparent disruption of fertility and growth. We discuss both the opportunities and challenges that await the physiological/behavioral analysis of Gly56Ala transgenic mice, with particular reference to modeling autism-associated traits.
Keywords
SerotoninTransporterPolymorphismTransgenic mouseProtein kinase Gp38 mitogen activated protein kinaseAutism
Methods
Production of mSERT Gly56Ala knock-in mouse
Approval was obtained from the Vanderbilt Institutional Animal Care and Use Committee for all experiments involving mice. A targeting construct was created containing exons 2–5 of the mouse 129S6
Slc6a4
gene with a floxed Neomycin-resistance cassette inserted between exons 4 and 5 (SERT Ala56-Neo, Fig.
5
). This construct was electroporated into mouse 129S6 embryonic stem cells in the Vanderbilt University Transgenic Mouse / Embryonic Stem Cell Shared Resource facility. Correct targeting of the Ala56-Neo knock-in allele was identified by polymerase chain reaction screening (PCR) and confirmed by Southern blot. Embryonic stem cells containing the SERT Ala56-Neo knock-in allele were then microinjected into the blastocoel cavity of 3.5-day-old C57Bl/6 embryos, which were then transferred into the uterus of a pseudopregnant recipient animal. The resulting chimeric animals were bred with 129S6 female mice. Pups were screened by PCR for germline transmission of the SERT Ala56-Neo allele. Heterozygous Gly56Ala-Neo animals were then bred to a 129S4 protamine-Cre mouse line to allow germline excision of the SERT-56Ala-Neo floxed Neomycin-resistance cassette [
87
]. The resulting SERT Gly56Ala pups were bred to generate a colony of mice including Ala/Ala knock-in mice and wildtype Gly/Gly littermate controls.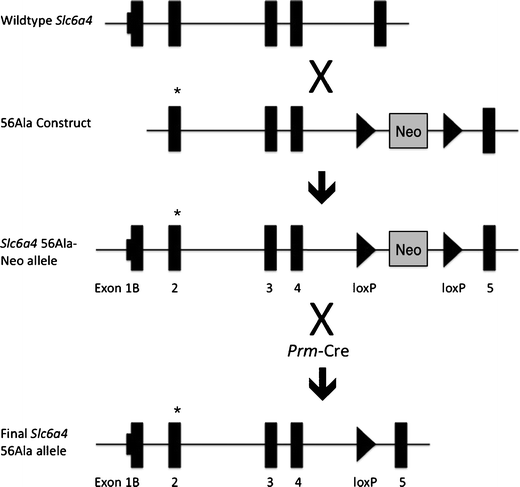 Genotyping and initial growth analysis of SERT Ala56 knock-in mice
At two weeks of age, a 3–5 mm section of tail was removed for DNA extraction using the Sigma REDExtract-N-Amp Tissue PCR Kit (Sigma-Aldrich, St. Louis, MO, http://www.sigmaaldrich.com). Each PCR reaction contained 2 μL of tail DNA extract, 5 μL of Sigma REDExtract-N-Amp PCR Reaction Mix, 0.5 μL of each of the two 25-μM primers (Sense 5′-cctggccctcttagcaggtt-3′; Antisense 5′- aggaggagaagccagcaagg-3′), and 2 μL of water, for a 10-μL total reaction volume. All of the PCR reactions were performed on an MJ Research DNA Engine PTC-200 thermocycler (Bio-Rad, Hercules, CA, http://www.bio-rad.com) under the following conditions: initial denaturation step of 94 ° C for 2 min; followed by 5 cycles of three alternating steps (94 ° C for 30 sec, 63 ° C for 45 sec, and 72 ° C for 60 sec); followed by 35 cycles of three alternating steps (94 ° C for 30 sec, 61 ° C for 45 sec, and 72 ° C for 60 sec); followed by one final extension step of 72 ° C for 8 min. Final PCR products were analyzed by horizontal gel electrophoresis in 1% agarose (GenePure LE, ISC BioExpress, Kaysville, UT, http://www.bioexpress.com). The PCR product from the wildtype 129S6 SERT gene allele is 642 bp long, and the PCR product from the mutant 129S6 SERT Ala56 allele is 752 bp long. The χ2 test was used to evaluate deviation from expected Hardy-Weinberg equilibrium allele frequencies.
Pups from SERT 56Gly/Ala heterozygote matings were weighed weekly from one week of age until eight weeks of age. Repeated Measures Analysis of Variance was used to evaluate sources of variation between mice of different genotypes over time.
Results and discussion
We have successfully introduced the SERT Ala56 allele into a 129S6 mouse background. Out of 308 embryonic stem cell lines that survived neomycin selection, a single ES line positive for the knock-in allele was selected for transfer to pseudopregnant females and chimera production. Eight chimeras with significant evidence of mosaicism were generated and animals with the greatest degree of 129S6 DNA, as assessed by coat color, were selected to analyze germ-line transmission, generating our founder animal and subsequent progeny. We then used Cre-based recombination to remove the neomycin-resistance cassette that often interferes with targeted gene expression. Heterozygous animals were bred to homozygosity on a 129S6 background and maintained this way except for initiation of backcrossing to C57BL/6J (ongoing). The initial 129S6 SERT Ala56 mice are viable and show a normal distribution of genotypes in their offspring (Table
2
) (Test for deviation from Hardy-Weinberg equilibrium χ
2
 = 0.14,
p
 = 0.93). Their initial growth trajectory mirrors that of the wildtype animals (Repeated Measures ANOVA, Genotype
F
 = 0.44,
p
 = 0.65; Interaction
F
 = 0.46,
p
 = 0.95) (Fig.
6
).
Table 2
Genotype distribution of Gly56Ala offspring from heterozygous breeding pairs
| | Gly/Gly | Gly/Ala | Ala/Ala |
| --- | --- | --- | --- |
| Pups from 56Gly/Ala breeding | 18 (20∙) | 42 (41∙) | 21 (20∙) |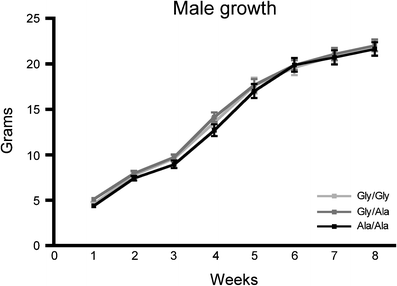 With the successful generation of both homozygous Ala/Ala mice as well as heterozygous carriers, our thoughts now turn to analyses that are predicted by trait associations in children possessing the variant, as well as biochemical and behavioral traits seen in autism more generally. Modeling the SERT Ala56 variant in transfected cells and in transformed cells has identified an intriguing phenotype of increased baseline activity and failure to further upregulate via the PKG and p38-MAPK pathways. In vivo modeling of this variant in a knock-in mouse will allow us to answer a number of questions, ranging from basic to translational. We will need to verify that mRNA and protein expression patterns resulting from the introduction of this knock-in allele will parallel native mouse SERT. We will want to establish that the SERT Ala56 in vitro phenotype of increased transport is recapitulated in the mouse, initially using synaptosome preparations or platelets and progressing to in vivo assays. We will also evaluate whether the biomarker of elevated platelet 5-HT is present in the SERT Ala56 mouse.
After initial studies establish the characteristics of the mouse SERT Ala56 variant in vivo, a number of intriguing questions await. Some of these questions correspond to establishing face validity for behavioral traits that map onto autism symptoms (reviewed in [88]). Will the SERT Ala56 mice show alterations in social behavior [89]? Will they show repetitive behavior, perseverative exploration, or deficits in reversal learning, paralleling the association of SERT Ala56 with rigid-compulsive behavior [90]? Will they show increased sensory sensitivity, paralleling the association with sensory aversion [91]? Other questions relate to predicted behavioral changes due to altered SERT function. Will SERT Ala56 mice show altered response to pharmacological probes of the 5-HT system, including 5-HT reuptake inhibitors and 5-HT receptor agonists? Might these mice help resolve the conundrum of replicated reductions in 5HT2 receptor density but utility of the 5HT2a antagonist risperidone? Will they demonstrate changes in anxiety or stress reactivity that contrast with the SERT knockout mouse [51]?
Our efforts to establish a behavioral readout of altered SERT function will rest on an understanding of underlying changes in brain development, synaptic function and signaling. Indeed, we believe this can help address the impact of SERT variation on brain architecture. Our initial focus will be targeted to brain regions that are altered in the SERT knockout mouse [91, 92] and/or those regions that may act as substrates for the behavioral alterations found in individuals with the SERT Ala56 variant. We then hope to advance from any observed changes in brain architecture to elucidate the underlying alterations in neurodevelopment that lead to these changes. Ultimately, our hope would be not just to characterize a brain and behavioral phenotype in the SERT Ala56 knock-in mouse, but also to capitalize on the model to develop novel methods of reversing the phenotype, either genetically or pharmacologically.
We have entered a new era in autism research with the transfer to animal models of functional human mutations linked to autism symptom domains. Time will tell if our efforts help unravel the complexities of autism, including the well known male bias, the long-standing biomarker of hyperserotonemia, and the seemingly independent trait domains that have been suggested to arise from distinct genetic mechanisms [93]. We have optimism that success in this venture can advance critical new models for the design of gene- or biomarker-based therapeutics.
Declarations
Acknowledgements
We gratefully acknowledge the input and support of Ana Carneiro, Chong-Bin Zhu, David Airey and investigators/staff of the Vanderbilt Silvio O. Conte Center for Neuroscience Research. We also appreciate the expert laboratory oversight provided by Jane Wright, Qiao Han, Angela Steele, Sarah Whitaker, and Kathryn Lindler. Research efforts were supported by NIH Award K08MH081066, an American Academy of Child and Adolescent Psychiatry Pilot Research Award and an Autism Speaks Pilot Award to J.V., a Scientist-Educator Award to B.J.T, a NARSAD Young Investigator Award to H.C.P. and NIH Awards NS049261 to J.S.S., DA07390 and MH078028 to R.D.B., and HD15052 for support of the Vanderbilt Transgenic Mouse/ESC Shared Resource.
Authors' Affiliations
(1)
Departments of Psychiatry, Vanderbilt University School of Medicine, Nashville, USA
(2)
Departments of Pharmacology, Vanderbilt University School of Medicine, Nashville, USA
(3)
Departments of Molecular Physiology & Biophysics, Vanderbilt University School of Medicine, Nashville, USA
(4)
Center for Molecular Neuroscience, Vanderbilt University School of Medicine, Nashville, USA
Copyright
© Springer Science+Business Media, LLC 2009