Common circuit defect of excitatory-inhibitory balance in mouse models of autism
Journal of Neurodevelopmental Disorders
2009
1:9023
Received: 22 May 2009
Accepted: 31 May 2009
Published: 11 July 2009
A severe neurobehavioral syndrome with a heterogeneous phenotype, autism spectrum disorders (ASD) are among the most heritable neurodevelopmental disorders of early childhood with an incidence as high as one child in 166. ASD is primarily a genetic disorder of prenatal and early postnatal brain development involving multiple risk genes, disrupted epigenetic pathways and possible environmental insults [2]. At present, there is no wholly effective treatment nor is it understood which biological pathways are specifically disrupted in individuals with autism. The diagnostic indicators of autism are core behavioral symptoms, rather than definitive neuropathological markers. Autistic children exhibit impaired language, abnormal social interactions and repetitive behaviors. One third of ASD patients have seizures and evidence of altered inhibition in the brain [3].
One unifying explanation for the complexity of ASD may lie in the disruption of excitatory/ inhibitory (E/I) circuit balance during critical periods of development [4–6]. Neuronal circuits are refined by extraordinary levels of plasticity during sensitive periods in early development, which are diminished in adulthood. It is during these "critical periods" that single neurons acquire multiple functional properties through an experience-dependent maturation. Recent findings have revealed that E/I circuit dynamics can dictate the normal timing of critical periods in brain development [1]. Gene-targeted deletion of a GABA-synthetic enzyme (GAD65 KO) in mice delays plasticity onset within the visual cortex indefinitely [7], which can be rescued at any age with benzodiazepines [8].
Detailed local circuit analysis
in vivo
has further identified a single GABAergic cell type — the Parvalbumin (PV)-positive basket cell (Fig.
1
) — as the key player for critical period plasticity [
9
–
11
]. The calcium-binding protein PV marks the largest class of inhibitory interneuron in the cortex and makes up ~40% of the GABA cell population [
12
]. They are born in the medial ganglionic eminence (MGE) on embryonic day E13.5 [
13
] and can later be found throughout the brain, including hippocampus, thalamus and cortex.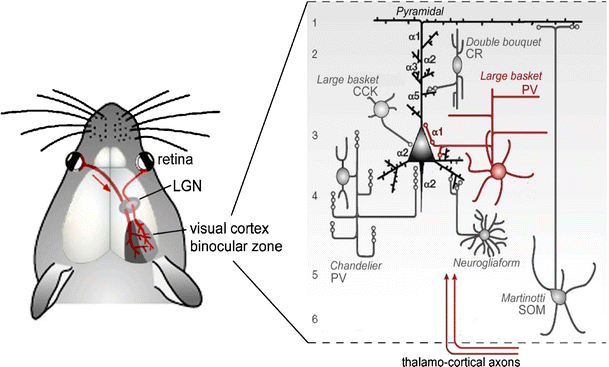 In neocortex, the two primary types of PV-cell are axon initial segment-targeting chandelier cells and soma-targeting large basket cells. The latter have a large, round soma with several prominent radial dendrites. PV expression begins near postnatal day P12 in layer 5 and matures in an inside-out laminar progression by around P21 in visual cortex and somewhat earlier in somatosensory and other cortical regions [12, 14]. With age, PV-cells become preferentially enwrapped in chondroitin sulphate proteoglycans that form a perineuronal net, which may buffer the ionic environment surrounding these cells [15] or act to limit growth and sprouting of impinging thalamic axon terminals [16]. Interestingly, removal of these nets can reactivate critical period plasticity in adult animals [17].
The mouse model system provides a method to experimentally test whether postnatal neurodevelopmental disorders of human cognition involve dysfunction of such critically timed activity-dependent processes. Mouse models of ASD have been developed that reflect genetic alterations associated with autism [18]. Some are based on monogenic aberrations (Neuroligin-3, Neuroligin-4, MeCP2, TSC1/2, FMR1, ubiquitin protein ligase 3A (Ube3A)) that underlie syndromes associated with autistic-like behavior. Other mutant lines are relevant to loci for autism susceptibility, identified by association or linkage in human populations. Advances have included the evaluation of mouse models with behavioral assays designed to reflect disease symptoms, including impaired social interaction, communication deficits and repetitive behaviors, and symptom onset during the neonatal period.
A meta-analysis of previously published reports reveals that PV-cells are consistently reduced in the neocortex of multiple mouse models of ASD (Table
1
). Such a shared circuit defect from heterogeneous genetic origins may further our understanding of the complex etiology of ASD and offers novel targets for therapeutic intervention. We therefore examined a representative embryonic insult and single-gene mutation model in greater detail from a PV-cell perspective.
Table 1
PV-cell deficits across ASD mouse models
| Gene/Condition | Region | Age | Reference |
| --- | --- | --- | --- |
| FMRP | somatosensory cortex | P365 | [94] |
| MeCP2 | somatosensory cortex | P14 | [95] |
| CAPS2 | motor cortex | P17 | [96] |
| uPAR | anterior cingulate cortex parietal cortex | >P90 | [97] |
| NL-3 | somatosensory cortex | >P60 | this study |
| VPA | parietal cortex | >P60 | this study |
| prenatal immune challenge | medial prefrontal cortex | adult | [98] |
| NPN2 | hippocampus area CA3/CA1 | >P60 | [99] |
| En-2 | hippocampus area CA3 | P150 | [100] |
Global genetic perturbations are produced by prenatal or neonatal environmental challenges, including early exposure to the HDAC inhibitor valproic acid (VPA) or inflammatory agents that have been suggested as autism risk factors by clinical surveys. A robust model has previously been developed in rats based on the fact that treatment of epilepsy or bipolar disorder in pregnant women around 20–24 days post-conception with the drug VPA is linked to an increased incidence of ASD in their children [19–21]. The physically healthy offspring of pregnant rats treated with a single dose of VPA at an equivalent gestational time point recapitulate the human ASD phenotype [22, 23]. Related VPA mouse models have been attempted, but most involve postnatal VPA treatment not consistent with human studies [24, 25]. One group used a slightly higher dose at a later time point, but they did not evaluate behaviors implicated in autism [24].
We translated the well-established rat model into mice by using the same dose at an equivalent injection time point and evaluated behavior of the offspring [26, 27]. Five out of nine VPA-injected pregnant females (500 mg/kg, i.p.) gave birth to viable litters, and of these, two litters included some mice with minor skeletal defects like bent tails and fused fingers. We concluded that this dose was appropriate because it was strong enough to have a teratogenic effect, but not too strong to cause gross impairments. We then compared PV-cell anomalies in the brain by immunostaining of VPA-treated mice and a representative single-gene mutant of Neuroligin-3 (NL-3 R451C) reported to exhibit autistic features [28] concomitant with enhanced cortical inhibitory synapse function [6]. Note that an independently generated R451C mutant mouse line revealed a different behavioral phenotype, but was not characterized for expression of mutant NL-3 and its electrophysiological consequences [29], making it unclear how similar the line is to the original R451C mutant mice.
(1)
Center for Brain Science, Dept. Molecular & Cellular Biology, Harvard University, 52 Oxford St., Cambridge, MA 02138, USA
(2)
FM Kirby Neurobiology Center, Dept. Neurology, Children's Hospital Boston, Harvard Medical School, 300 Longwood Ave, Boston, MA 02115, USA
(3)
HHMI, Stanford School of Medicine, 1050 Arastradero Road (B249F), Palo Alto, CA 94304, USA
© Springer Science+Business Media, LLC 2009