Mouse models of the fragile X premutation and fragile X-associated tremor/ataxia syndrome
Journal of Neurodevelopmental Disorders
2014
6:25
Received: 22 October 2013
Accepted: 29 January 2014
Published: 30 July 2014
Abstract
Carriers of the fragile X premutation (FPM) have CGG trinucleotide repeat expansions of between 55 and 200 in the 5′-UTR of FMR1, compared to a CGG repeat length of between 5 and 54 for the general population. Carriers were once thought to be without symptoms, but it is now recognized that they can develop a variety of early neurological symptoms as well as being at risk for developing the late onset neurodegenerative disorder fragile X-associated tremor/ataxia syndrome (FXTAS). Several mouse models have contributed to our understanding of FPM and FXTAS, and findings from studies using these models are summarized here. This review also discusses how this information is improving our understanding of the molecular and cellular abnormalities that contribute to neurobehavioral features seen in some FPM carriers and in patients with FXTAS. Mouse models show much of the pathology seen in FPM carriers and in individuals with FXTAS, including the presence of elevated levels of Fmr1 mRNA, decreased levels of fragile X mental retardation protein, and ubiquitin-positive intranuclear inclusions. Abnormalities in dendritic spine morphology in several brain regions are associated with neurocognitive deficits in spatial and temporal memory processes, impaired motor performance, and altered anxiety. In vitro studies have identified altered dendritic and synaptic architecture associated with abnormal Ca2+ dynamics and electrical network activity. FPM mice have been particularly useful in understanding the roles of Fmr1 mRNA, fragile X mental retardation protein, and translation of a potentially toxic polyglycine peptide in pathology. Finally, the potential for using these and emerging mouse models for preclinical development of therapies to improve neurological function in FXTAS is considered.
Keywords
CGG trinucleotide repeat FMR1 FMRPFragile X premutationFXTASIntranuclear inclusionsMouse modelsRNA toxicity
Introduction
The Fragile X mental retardation 1 gene (
FMR1
) is located on the long arm of the X-chromosome at Xq27.3 and codes for the fragile X mental retardation protein (FMRP), which is necessary for normal brain development and synaptic plasticity [
1
–
5
]. The fragile X gene carries a variable number of CGG repeats in the 5′-UTR of between 5 and 55 in most individuals (modal value 32 to 33; Figure
1
). However, due to instability of the repeat across generations, there are large numbers of individuals who carry an expanded CGG repeat of between 55 and 200. These individuals are referred to as fragile X premutation (FPM) carriers, and occur in the general population with an estimated frequency of 1 in 209 females and 1 in 430 males [
6
,
7
]. Further expansion of the CGG repeat to greater than 200 in the offspring of FPM carriers leads to the full mutation, silencing of
FMR1
expression and fragile X syndrome (FXS), the major known inherited cause of intellectual disability [
4
,
8
].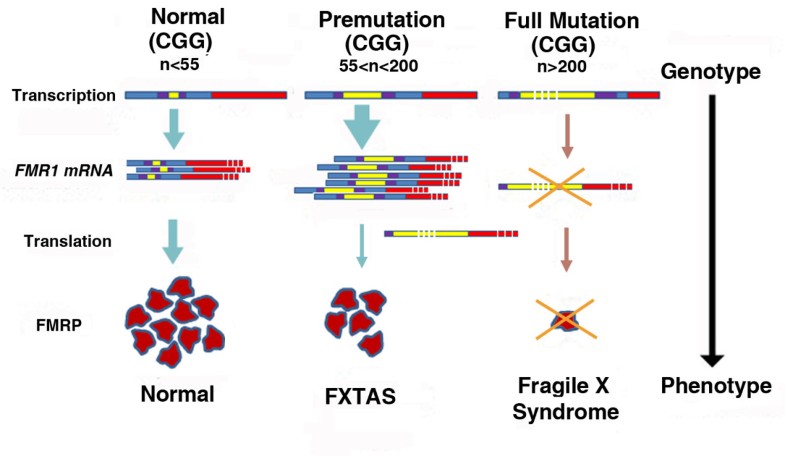 Carriers with 55 to 200 CGG repeats were originally thought to be clinically unaffected. However, it is now known that they can develop a variety of neurological symptoms, including memory problems, deficits in executive function, depression, anxiety, and problems with numerical processing and magnitude estimates [3, 10, 11]. They are also at risk for developing the late onset neurodegenerative disorder fragile X-associated tremor/ataxia syndrome (FXTAS). Major symptoms of FXTAS include tremor, ataxia, impairments in executive function and memory, and cognitive decline and dementia in some patients [12, 13]. Neuropathology includes brain atrophy, ventricular enlargement, loss of Purkinje neurons, white matter disease, disruption of nuclear lamin A/C architecture and accumulation of intranuclear protein inclusions [5, 14].
The chances of developing FXTAS increase dramatically with age, with approximately 45.5% of male and 16.5% of female FPM carriers over the age of 50 developing FXTAS [15]. Indeed, FXTAS may be one of the more common causes of tremor and ataxia in older adults [16]. Besides age, the risk factors that lead to the development of FXTAS in some, but not all, FPM carriers are unknown, but are likely to include CGG repeat length, additional genetic mechanisms and environmental factors (for example, environmental toxins, other illnesses [3]). Identifying the risk factors for FXTAS is particularly important and animal models will undoubtedly play a major role in this area of research.
Because of the increase in the number of people reaching the age of 65, it is likely that the number of cases of FXTAS will increase accordingly, further highlighting the importance of research on FXTAS [16]. Therefore, it is important to understand the underlying pathology in FXTAS, to establish its developmental time course, and to develop rational treatments to delay or halt progression of disease and improve neurological function.
Conclusions
Although uniquely human components of disease cannot be fully captured in other species, mouse models of FXTAS have provided useful research tools to test hypotheses about the causes of the disorder, and to discover effective treatments. Development of CGG KI mice has provided insight into the natural history of the disorder, the molecular correlates, hallmark pathology in the brain and other organ systems, as well as an understanding of the neurobehavioral effects of expression of CGG repeat expansions. These KI mice now allow for the evaluation of novel therapeutic strategies, whether pharmacological or gene-targeted, to halt or reverse disease processes and to improve neurological outcome. Ongoing development of new mouse lines, including conditional and inducible mice, should further increase the value of animal models to understand the pathology of repeat disorders such as FXTAS. There are many open questions to be answered that will continue to rely on mouse models, including why mRNA levels are elevated, the importance of reduced FMRP in pathology, whether intranuclear inclusions are toxic or simply mark the progress of disease, and how protein sequestration and RAN translation contribute to the disease process in FPM and FXTAS.
Abbreviations
AMPA:

α-amino-3-hydroxy-5-methyl-4-isoxazole propionic acid
ATPB:

β-subunit of ATP synthase
CB:

clustered burst
DHPG:

3,5-dihydroxyphenylglycine
DIV:

days in vitro
EGFP:

enhanced green fluorescent protein
FAD:

flavin adenine dinucleotide
FMRP:

fragile X mental retardation protein
FPM:

fragile X premutation
FXS:

fragile X syndrome
FXTAS:

fragile X-associated tremor/ataxia syndrome
KI:

knock-in
KO:

knock-out
LTD:

long-term synaptic depression
mGluR:

metabotropic glutamate receptors
miRNA:

microRNA
MnSOD:

manganese superoxide dismutase
NMDA:

N-methyl-d-aspartate
NAD:

nicotinamide adenine dinucleotide
UTR:

untranslated region
WT:

wild-type
YAC:

yeast artificial chromosome.
Declarations
Acknowledgements
The assistance of Andreea Pop with the editing of this manuscript is appreciated. The following funding sources supported the writing of this manuscript: NS079775 (RFB, RW); NICHD P30 HD24064-15 S1 (DLN); Dutch Brain Foundation (RW); the Intramural Program of NIDDK, NIH (KU), NIEHS ES011269 and DOD PR120921(INP); E-Rare grant (RKH); Belgian National Fund for Scientific Research, Flanders (RFK), Ministry of Health, Spain (EP).
Authors' Affiliations
(1)
Department of Neurological Surgery, Davis, USA
(2)
Department Clinical Genetics, Erasmus MC, Rotterdam, Netherlands
(3)
NIDDK, National Institutes of Health, Bethesda, USA
(4)
University of Seville, School of Medicine, Seville, Spain
(5)
Department of Medical Genetics, University of Antwerp, Antwerp, Belgium
(6)
UC Davis M.I.N.D. Institute, Sacramento, USA
(7)
Department Molecular Biosciences, UC Davis, Davis, USA
(8)
Department of Molecular and Human Genetics, Baylor College of Medicine, Houston, USA
(9)
Department of Translational Medicine, IGBMC, Illkirch, France
Copyright
© Berman et al.; licensee BioMed Central Ltd. 2014
This article is published under license to BioMed Central Ltd. This is an Open Access article distributed under the terms of the Creative Commons Attribution License (http://creativecommons.org/licenses/by/2.0), which permits unrestricted use, distribution, and reproduction in any medium, provided the original work is properly credited. The Creative Commons Public Domain Dedication waiver (http://creativecommons.org/publicdomain/zero/1.0/) applies to the data made available in this article, unless otherwise stated.