Comparative mapping of the 22q11.2 deletion region and the potential of simple model organisms
Journal of Neurodevelopmental Disorders
Advancing Interdisciplinary Research
2015
7:18
Received: 23 February 2015
Accepted: 26 May 2015
Published: 1 July 2015
Abstract
Background
22q11.2 deletion syndrome (22q11.2DS) is the most common micro-deletion syndrome. The associated 22q11.2 deletion conveys the strongest known molecular risk for schizophrenia. Neurodevelopmental phenotypes, including intellectual disability, are also prominent though variable in severity. Other developmental features include congenital cardiac and craniofacial anomalies. Whereas existing mouse models have been helpful in determining the role of some genes overlapped by the hemizygous 22q11.2 deletion in phenotypic expression, much remains unknown. Simple model organisms remain largely unexploited in exploring these genotype-phenotype relationships.
Methods
We first developed a comprehensive map of the human 22q11.2 deletion region, delineating gene content, and brain expression. To identify putative orthologs, standard methods were used to interrogate the proteomes of the zebrafish (D. rerio), fruit fly (D. melanogaster), and worm (C. elegans), in addition to the mouse. Spatial locations of conserved homologues were mapped to examine syntenic relationships. We systematically cataloged available knockout and knockdown models of all conserved genes across these organisms, including a comprehensive review of associated phenotypes.
Results
There are 90 genes overlapped by the typical 2.5 Mb deletion 22q11.2 region. Of the 46 protein-coding genes, 41 (89.1 %) have documented expression in the human brain. Identified homologues in the zebrafish (n = 37, 80.4 %) were comparable to those in the mouse (n = 40, 86.9 %) and included some conserved gene cluster structures. There were 22 (47.8 %) putative homologues in the fruit fly and 17 (37.0 %) in the worm involving multiple chromosomes. Individual gene knockdown mutants were available for the simple model organisms, but not for mouse. Although phenotypic data were relatively limited for knockout and knockdown models of the 17 genes conserved across all species, there was some evidence for roles in neurodevelopmental phenotypes, including four of the six mitochondrial genes in the 22q11.2 deletion region.
Conclusions
Simple model organisms represent a powerful but underutilized means of investigating the molecular mechanisms underlying the elevated risk for neurodevelopmental disorders in 22q11.2DS. This comparative multi-species study provides novel resources and support for the potential utility of non-mouse models in expression studies and high-throughput drug screening. The approach has implications for other recurrent copy number variations associated with neurodevelopmental phenotypes.
Keywords
DiGeorge syndromeVelocardiofacial syndromeAnimal modelsHomologyHomolog DGCR8 PRODH SLC25A1 TBX1
Background
22q11.2 deletion syndrome (22q11.2DS, MIM #188400/#192430) is the most common micro-deletion syndrome in humans with an estimated prevalence of at least 1 in 4000 live births [1, 2]. Formerly known as velocardiofacial or DiGeorge syndrome, this multi-system condition is associated with a broad range of developmental features including congenital cardiac and palatal anomalies, intellectual disabilities, hypoparathyroidism, and subtle facial dysmorphism [2–4]. Developmental delay and later onset disorders affecting the nervous system are particularly common [5]. These include attention deficit hyperactivity disorder [6, 7], anxiety disorders [8, 9], autism [10, 11], epilepsy, schizophrenia [2, 12], and early-onset Parkinson's disease [13, 14]. The phenotypic manifestations of the syndrome are thought to be related at least in part to reduced gene dosage in the 22q11.2 deletion region that in turn interferes with normal protein functioning [15].
The typical associated ~2.5 Mb 22q11.2 deletion is present in >85 % of individuals with 22q11.2DS [16, 17], while a smaller proximal nested ~1.5 Mb deletion occurs in ~10 % of cases [18, 19]. The associated 22q11.2 deletions are mediated by segmental duplications, or low-copy repeats (LCRs) that confer susceptibility of the region to copy number variation through non-allelic homologous recombination [20, 21]. The penetrance and variable expressivity of major associated phenotypes appear to be largely independent of deletion size [22, 23]. The few mRNA sequencing and protein expression studies of individuals with 22q11.2DS published to date [24–33] illustrate the complexity of linking specific genes to the phenotypes associated with this disorder. Much remains to be known about the individual and collective roles of 22q11.2 deletion region genes in modulating associated phenotypes. Model animals will undoubtedly play an essential role in this discovery process.
Mouse models have already been proven useful for characterizing the molecular function of 22q11.2 genes and establishing a link between certain genes and 22q11.2DS associated phenotypes [34]. The syntenic region on mouse chromosome 16 has a high degree of gene conservation to the human 22q11.2 region. Current engineered mouse models include deletions of large portions of the syntenic region and mutations of individual genes [34, 35]. However, simple model organisms could also prove to be powerful tools for investigating genomic disorders such as 22q11.2DS. Their ease of genetic manipulation, amenability to high-throughput behavioural screening, and short generation times make simple organisms attractive potential resources. The potential for simple model organisms to reveal the genetic mechanisms underlying 22q11.2DS phenotypes remains essentially unexamined however.
As an initial step in determining the utility of simple model organisms in the study of 22q11.2DS, we generated an updated, comprehensive 22q11.2DS human gene map and investigated the evolutionary conservation status of genes within the 22q11.2 region in three common model organisms: the zebrafish, Danio rerio (D. rerio), the fruit fly, Drosophila melanogaster (D. melanogaster), and the worm, Caenorhabditis elegans (C. elegans). We included the otherwise well-reviewed mouse models [34, 35] for comparison. We then conducted a comprehensive review of gene function and phenotypic alterations related to 22q11.2 gene homologue disruptions and developed a novel comprehensive resource of available knockout and knockdown models. The results may help to accelerate the identification of novel genotype-phenotype correlations in 22q11.2DS and inform pathogenesis of, and drug development for this disorder and its commonly associated features.
Methods
Human 22q11.2 region characterization
The human 22q11.2DS deletion region, genetic content, and order were mapped from NCBI Gene
Homo sapiens
Annotation Release 105 using Affymetrix CytoScan HD (Santa Clara, CA, USA) array mean breakpoints (chr22:18,820, 303–21, 489,474) ascertained from 16 patients with confirmed 22q11.2 deletions (Fig.
1
). Fourteen of the 16 patients had deletions covering most of the 22q11.2 region (~2.5 Mb) while two had smaller, nested proximal deletions. The same region was obtained with a larger, previously described patient population (
n
= 99) using Affymetrix Human SNP 6.0 breakpoints [
3
,
36
]. All patients provided consent and the study was approved by local research ethics boards [
3
]. We accessed the Database of Genomic Variants to establish the corresponding locations of major UCSC segmental duplications across the deletion region (
http://dgv.tcag.ca/dgv/app/home
; accessed 1 December 2014). Build GRCh37 gene coordinates were used to ensure congruency across all databases used in this study. We omitted the few genes that move outside the 22q11.2 deletion region in build GRCh38 (i.e., the segment flanked by protein-coding genes
TMEM191B
…
RIMBP3
).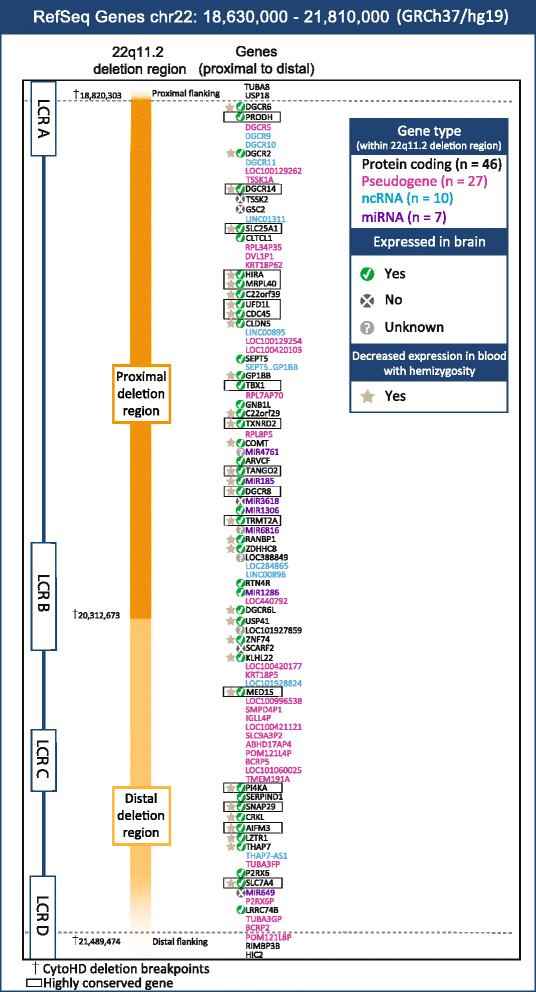 To identify changes in gene expression conferred by 22q11.2 hemizygosity, a systematic literature review (current to 1 December 2014) was conducted using PubMed to identify experimentally validated changes in 22q11.2 region gene expression (mRNA) in patients with 22q11.2DS. The following search terms were used: "22q11.2 deletion syndrome", "22q11.2DS", "DiGeorge syndrome", "velo-cardio-facial syndrome", "velocardiofacial syndrome", "VCFS", "CATCH22", and "Shprintzen syndrome", in conjunction with the name of each gene (and all associated gene aliases from GenBank). The Human Brain Transcriptome (http://hbatlas.org/) was used to identify genes expressed in the brain (mRNA signal ≥6) across the lifespan in any brain region [37]. For genes (n = 10) not found in the Human Brain Transcriptome, UniProtKB (http://www.uniprot.org/uniprot/) and associated gene expression databases (ArrayExpress, Bgee and CleanEx) were consulted.
Gene conservation and function in model species
To identify putative orthologs of human 22q11.2 region protein-coding genes in the zebrafish (D. rerio), fruit fly (D. melanogaster), worm (C. elegans), and mouse (M. musculus), we employed the reciprocal best hits method, i.e., the protein products of genes in two different genomes represent the best hit in the opposite genome, using protein Basic Local Alignment Search Tool (blastp) analysis with the UniProtKB database (http://www.uniprot.org/uniprot/) including both Swiss-Prot and TrEMBL entries (accessed 1 December 2014). We ran blastp using each of the 46 22q11.2 deletion region protein-coding genes as a query against all proteins annotated in each genome of interest, using default settings and a maximum E-value threshold of 1 × 10−6 [38, 39]. We also required coverage of at least 50 % of any of the protein sequences in the alignments. In instances of multiple protein isoforms due to alternative splicing, the "canonical" sequence, as identified by UniProtKB, was selected for blastp analysis. To find orthologs as reciprocal best hits, we sorted blastp hits from the highest to the lowest bit score. Using this sorting method, the first hit was therefore the best hit. If the next hit had the very same score, there would be more than one hit (the method can therefore produce multiple orthologs). The same procedure was performed in the opposite direction. In the zebrafish, an organism that has undergone genome-wide duplication, we included multiple hits if the scores of putative homologues were very similar, and both hits were consistently identified across multiple databases (e.g., RefSeq). NCBI Entrez Gene was then used to individually search all putative orthologs to establish organism-specific gene location (Additional file 1). The conservation status of the seven 22q11.2 region miRNAs identified was examined using miRBase21 (accessed in December 2014) [40]. Human non-coding genes (n = 10) including one read-through transcript, and pseudogenes (n = 27) in the 22q11.2 deletion region were not investigated further.
To identify available knockout and knockdown models of the identified 22q11.2 region homologues and collate their phenotypic manifestations, we conducted a systematic search (accessed 1 December 2014) of species-specific databases including: WormBase (http://www.wormbase.org/), FlyBase (http://flybase.org/), ZFin (http://zfin.org/), and MGI (http://www.informatics.jax.org/) databases for C. elegans, D. melanogaster, D. rerio, and M. musculus, respectively. A secondary PubMed literature review confirmed that all studies examining orthologs in our model organisms of interest were included. Knockouts (homozygote) were defined as mutant models that did not produce a functional protein product due to a premature stop codon, a disruptive insertion, or full excision of a gene. For all model organisms discussed, we note only the availability of homozygous knockouts; these are more difficult to generate and are required for heterozygous knockout animals (the result of a cross of a homozygous knockout with a wild-type strain). We have however provided the known phenotypes of heterozygous knockout models for genes conserved across all examined organisms. Knockdown models were defined as those with reduced gene expression induced by any technology that interfered with the translation of a gene after it had been transcribed. The 17 genes conserved across model organisms were examined to document the availability of phenotypic information of mutant models. Single gene mutations have been reported in humans for 22q11.2DS genes, however these were outside the scope of this study.
Discussion
Here, we defined a comprehensive gene map of the most common human micro-deletion syndrome, 22q11.2DS, and conducted the first systematic examination of 22q11.2 deletion region gene conservation in simple model organisms. We developed a comprehensive resource of available knockout and knockdown models of conserved 22q11.2 region homologues. Our results demonstrate that of the human 22q11.2 region protein-coding genes, a substantial proportion is conserved in simple model organisms. These mutant model organisms are amenable to extensive phenotypic characterization. This novel comparative multi-species resource can be used to provide initial insights into how simple animal models could be used to investigate the multi-system congenital and neurodevelopmental conditions associated with hemizygous 22q11.2 deletions.
Conclusions
These results indicate that the zebrafish, fruit fly, and worm are valuable but underused model organisms in the study of the important human genetic syndrome, 22q11.2DS, associated with a 22q11.2 deletion involving 46 protein-coding genes. There is a relatively high degree of conservation of these genes, and some relevant models already exist in non-murine organisms. Despite this, few have been studied in the context of 22q11.2DS. Manipulating expression of 22q11.2 region genes in the zebrafish, fruit fly, or worm can reveal phenotypic manifestations relevant to 22q11.2DS and a greater understanding of their molecular origins in ways that are not possible in humans or readily possible in mouse models. In addition to providing a novel comprehensive comparative resource for the many developmental genes in the 22q11.2 region, we illustrate a proof-of-principle of the utility for applying a similar approach to investigating other pathogenic copy number variants associated with multi-system developmental disorders and important neurodevelopmental phenotypes.
Declarations
Acknowledgements
This work was supported by the Canadian Institutes of Health Research (ASB, MOP #97800, MOP #111238), Canada Research Chairs program and Dalglish Chair in 22q11.2 Deletion Syndrome (ASB), an Institute of Medical Science Summer Undergraduate Research Award (AG) and a Brain Canada Mental Health Training Award (NJB).
Authors' Affiliations
(1)
Clinical Genetics Research Program and Campbell Family Mental Health Research Institute, Centre for Addiction and Mental Health, Toronto, Canada
(2)
Institute of Medical Science, University of Toronto, Toronto, Canada
(3)
Dalglish Family Hearts and Minds Clinic for Adults with 22q11.2 Deletion Syndrome, Division of Cardiology, Department of Medicine, Department of Psychiatry, and Toronto General Research Institute, University Health Network, Toronto, Canada
(4)
Department of Psychiatry, University of Toronto, Toronto, Canada
(5)
Centre for Addiction and Mental Health, Toronto, Canada
Copyright
© Guna et al. 2015
This is an Open Access article distributed under the terms of the Creative Commons Attribution License (http://creativecommons.org/licenses/by/4.0), which permits unrestricted use, distribution, and reproduction in any medium, provided the original work is properly credited. The Creative Commons Public Domain Dedication waiver (http://creativecommons.org/publicdomain/zero/1.0/) applies to the data made available in this article, unless otherwise stated.