The multiple molecular facets of fragile X-associated tremor/ataxia syndrome
Journal of Neurodevelopmental Disorders
2014
6:23
Received: 14 October 2013
Accepted: 15 November 2013
Published: 30 July 2014
Abstract
Fragile X-associated tremor/ataxia syndrome (FXTAS) is an adult-onset inherited neurodegenerative disorder characterized by intentional tremor, gait ataxia, autonomic dysfunction, and cognitive decline. FXTAS is caused by the presence of a long CGG repeat tract in the 5′ UTR of the FMR1 gene. In contrast to Fragile X syndrome, in which the FMR1 gene harbors over 200 CGG repeats but is transcriptionally silent, the clinical features of FXTAS arise from a toxic gain of function of the elevated levels of FMR1 transcript containing the long CGG tract. However, how this RNA leads to neuronal cell dysfunction is unknown. Here, we discuss the latest advances in the current understanding of the possible molecular basis of FXTAS.
Keywords
Premutation Carrier
Premutation Allele
Fmr1 Allele
Repeat Expansion Disease
Full Mutation Allele
Conclusion
The restriction of FXTAS clinical features to unmethylated, transcriptionally active alleles with large CGG repeat numbers suggests that the expression of a mutant RNA is pathogenic to neuronal cells [55]. This hypothesis is supported by data from cell, fly, and mouse models [17–22]. However, how these RNAs cause neuronal cell dysfunction and FXTAS symptoms remains unclear. One model proposes that the RNA containing expanded CGG repeats is pathogenic via its sequestration of specific RNA binding proteins. Various proteins, including Purα, Rm62, CUGBP1, hnRNP A2/B1, SAM68, and DROSHA-DGCR8, have been shown to bind directly or through a protein partner to expanded CGG repeats [56, 59, 61, 67, 68]. However, it remains to be tested whether overexpression of these candidate proteins rescues any phenotype in mouse models expressing expanded CGG repeats. A second mechanism involves non-canonical translation initiation of expanded CGG repeats. resulting in expression of toxic polyglycine-containing and polyalanine-containing proteins [71]; however, how these proteins promote neuronal cell dysfunction is an open question. A third model is associated with the expression of antisense FMR1 transcripts. Further investigation is needed to evaluate the pathological consequences of expression of ASFMR1 or other long non-coding RNA mapping within the FMR1 gene. Finally, although decreased expression of FMRP is probably not the principal cause of FXTAS, it cannot be excluded that a reduction in FMRP plays a role in modulating some of FXTAS features. In that context, the level of FMRP depletion in brain samples from a larger cohort of patients with FXTAS needs to be measured.
In conclusion, in addition to increased
FMR1
mRNA production, protein titration, non-AUG translation, antisense transcription, and decreased expression of FMRP are a number of non-exclusive mechanisms that may all contribute to FXTAS pathology. It is possible that contributions to pathology from more than one mechanism may help to explain the great variability in clinical presentation of premutation individuals, aspects of which have heretofore not been accounted for by CGG expansion size, mosaicism, methylation, alternative spliced isoforms, additional genomic changes, or other known factors. Thus, more work is needed to determine the relative contribution of these processes to disease pathology in this multifaceted disorder (Figure
4
).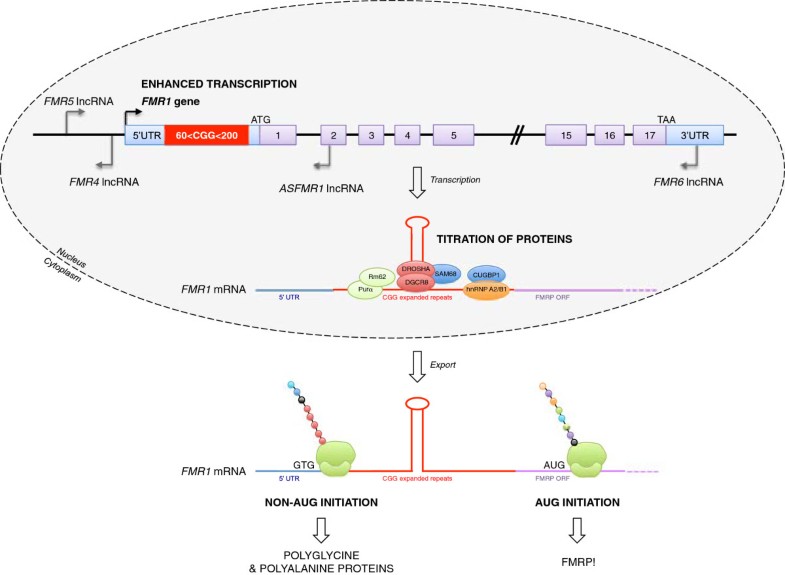 Declarations
Acknowledgments
We thank Paul Hagerman and Peter Todd for invaluable and fruitful discussions. We sincerely apologize to all colleagues whose work could not be cited due to space limitations. This work was supported by INSERM (NCB), ANR and E-RARE 'CURE FXTAS' (NCB), ERC 'RNA DISEASES' (NCB), the National Institute of Mental Health (grant number 5R01MH084880-05) and the Intramural Program of the National Institute of Diabetes and Digestive and Kidney Diseases (NIH; DK057808-05).
Authors' Affiliations
(1)
Department of Translational Medicine, IGBMC, INSERM, Illkirch, France
(2)
Section on Gene Structure and Disease, NIDDK, National Institutes of Health, Bethesda, USA
(3)
Department of Psychiatry and Behavioral Sciences and Center for Therapeutic Innovation, Hussman Institute for Human Genomics, University of Miami, Miller School of Medicine, Miami, USA
(4)
Department of Biochemistry and Molecular Medicine, University of California, Davis, School of Medicine, Sacramento, USA
(5)
MIND Institute, University of California Davis Medical Center, Sacramento, USA
(6)
Institut de Génétique et de Biologie Moléculaire et Cellulaire, CNRS UMR7104, INSERM U964, University of Strasbourg, Illkirch, France
Copyright
© Sellier et al.; licensee BioMed Central Ltd. 2014
This article is published under license to BioMed Central Ltd. This is an Open Access article distributed under the terms of the Creative Commons Attribution License (http://creativecommons.org/licenses/by/2.0), which permits unrestricted use, distribution, and reproduction in any medium, provided the original work is properly credited. The Creative Commons Public Domain Dedication waiver (http://creativecommons.org/publicdomain/zero/1.0/) applies to the data made available in this article, unless otherwise stated.