Working memory deficits in high-functioning adolescents with autism spectrum disorders: neuropsychological and neuroimaging correlates
Journal of Neurodevelopmental Disorders
2013
5:14
Received: 11 January 2013
Accepted: 10 May 2013
Published: 4 June 2013
Abstract
Working memory is a temporary storage system under attentional control. It is believed to play a central role in online processing of complex cognitive information and may also play a role in social cognition and interpersonal interactions. Adolescents with a disorder on the autism spectrum display problems in precisely these domains. Social impairments, communication difficulties, and repetitive interests and activities are core domains of autism spectrum disorders (ASD), and executive function problems are often seen throughout the spectrum. As the main cognitive theories of ASD, including the theory of mind deficit hypotheses, weak central coherence account, and the executive dysfunction theory, still fail to explain the broad spectrum of symptoms, a new perspective on the etiology of ASD is needed. Deficits in working memory are central to many theories of psychopathology, and are generally linked to frontal-lobe dysfunction. This article will review neuropsychological and (functional) brain imaging studies on working memory in adolescents with ASD. Although still disputed, it is concluded that within the working memory system specific problems of spatial working memory are often seen in adolescents with ASD. These problems increase when information is more complex and greater demands on working memory are made. Neuroimaging studies indicate a more global working memory processing or connectivity deficiency, rather than a focused deficit in the prefrontal cortex. More research is needed to relate these working memory difficulties and neuroimaging results in ASD to the behavioral difficulties as seen in individuals with a disorder on the autism spectrum.
Keywords
Working memoryAdolescentsAutismNeuropsychologyNeuroimaging
Review
Autism spectrum disorder (ASD) is a heterogeneous neurodevelopmental syndrome in the category of pervasive developmental disorders (Diagnostic and Statistical Manual of Mental Disorders, 4th Edition (DSM-IV)), with an unknown etiology. Clinicians and researchers usually include autistic disorder, Asperger syndrome, and pervasive developmental disorders not otherwise specified as subtypes of ASD. Although not part of the diagnostic classification and not formal subcategories of ASD, a distinction is also often made between low-functioning autism (LFA) and high-functioning autism (HFA). No consensus criteria regarding LFA and HFA exist, but low-functioning individuals with autism are generally considered to have an IQ below 70 or 85, whereas high-functioning individuals with autism tend to have an IQ above 70 or 85 (depending on the preferred IQ cut-off point of one or two standard deviations below mean).
Although estimates vary, the prevalence rate of ASD is approximately 6 per 1,000 children, with males being affected two (autism disorder) to four (Asperger syndrome) times more often than females [1]. Across the spectrum, ASD is by definition characterized by social impairments, communication difficulties, and repetitive interests and behavior (DSM-IV). Executive function problems and (specific) learning difficulties are also found throughout the spectrum, but are not seen as core deficits [2–7]. Traditionally, 'executive functions' is an umbrella term for functions such as working memory (WM), inhibition, planning, impulse control, and shifting set as well as the initiation and monitoring of action [4]. As such, executive functions are generally seen as central to human cognition [8–10] and as a consequence, executive dysfunction has a high impact on daily life.
Of these executive functions, WM and inhibition are generally considered to be core components [11, 12]. Although the precise definition of WM may depend on the field of interest, for example, in human or non-human studies [13], it is generally considered to be a temporary storage system under attentional control that is the basis for our capacity for complex thought [14]. This view is supported by abundant empirical studies revealing relationships between WM and reading, mathematics [15–18], reasoning and problem-solving [19–21], and general fluid intelligence [22, 23]. The processes involved in WM are threefold: active conservation of information for short periods of time, context-relevant updating of information, and rapid biasing of task-relevant cognitions and behaviors.
Nowadays, the most commonly used cognitive model of WM is the revised WM model proposed by Baddeley [
14
] (Figure
1
). This model contains a central executive (attention control center), an episodic buffer (which comprises a limited capacity storage system and integrates information into coherent objects and episodes) and two slave systems: one for visual and/or spatial information (the visuospatial sketchpad) and one for auditory information (the phonological loop). The model also describes links between WM, long-term memory, and perception, and has proven to be very valuable in WM studies that focus on abstract information processing, such as for numbers, locations of objects, words, and sentences [
14
], the so-called 'cold' (based on reason) cognitive processes. However, based on this revised WM model of Baddeley, we argue that WM is not only important for 'cold' cognitive processes (auditory and visuospatial), but is also essential for successfully navigating in the social world. Complex social situations demand online information processing of both 'cold' and 'hot' (based on motivation and emotion) cognitive information, and put a lot of stress on WM capacity [
24
–
26
]. In addition, Baddeley states that adequate social behavior can be seen as a dual task, through balancing one's own needs and desires with those of the people with whom one is interacting, and as such requires a form of WM [
27
]. Although this last notion was proposed more than a decade ago, only a few studies have considered this subject, which will be discussed below.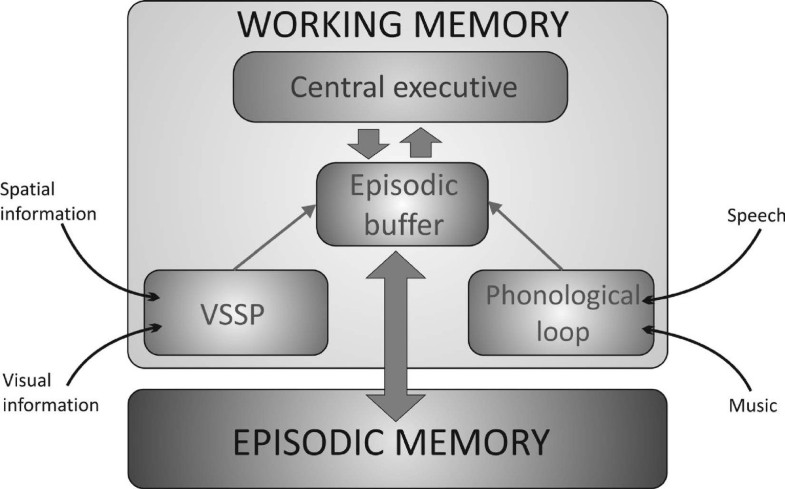 LoPresti et al. [28] examined how continuously changing social information is maintained in WM. They used two versions of a delayed match-to-sample task to examine two socially salient cues: emotion and identity. Participants either had to match the emotional expression of a face to a sample face (the identity of the face was constant), or match the identity of a face to a sample face (the emotional expression was constant). Their results demonstrated sustained delay-related activation in the orbitofrontal cortex, the amygdala, and hippocampus, for both identity and emotion. These regions play a critical role in binding together emotional information in long-term memory, and are also critical for actively maintaining and binding together salient social cues in WM [29]. Other evidence for the involvement of WM in processing social information was given by Phillips and colleagues [30]. They explored the role of verbal working memory in decoding emotions and found that the process of labeling the emotions portrayed on facial expressions places high demands on WM resources. These demands increase as the number of labels that are available increases, as will be the case in real-life situations: decoding social cues from faces, bodies, and verbal material will all involve substantial investment of WM for accurate performance. The authors further mentioned that possible critical factors that might influence the WM load may be the type of decision required, the extent to which the social properties of the stimuli can be easily detected and verbalized, and the complexity of the stimuli and response requirements. Bankó et al. [31] found evidence that humans can store fine-grained information related to facial emotions and identity in short-term memory with high precision. Such high-fidelity short-term memory processing is crucial for the ability to monitor emotional expressions efficiently. As a result, it could be hypothesized that impairment of high-precision short-term memory storage of emotional information might (partly) underlie the deficits of emotional processing found in psychiatric disorders, including autism. Through these processes, WM not only plays a central role in processing complex cognitive information, but also an essential role in social cognition and interpersonal interactions.
During adolescence major changes take place in the neural subsystems that serve social cognition, WM, and other executive functions [32]. Adolescence is a period in which social-cognitive skills become increasingly important. To achieve adult social competence levels, adolescents have to learn how to adapt their behavior to rapidly changing social environments, in which the opinions and evaluations of peers become increasingly salient [9, 33]. Both social rule use and WM are likely to develop slowly and reach maturity in adolescence or early adulthood [34–36]. The simultaneous development of both higher cognitive and socio-affective brain systems during adolescence, and the interplay of these systems on each other [37], makes this period especially interesting to study. While we acknowledge that the brain-behavior relationship of social-cognition in adolescence is complex, with many interacting processes such as changing hormone levels during puberty, as well as motivational and environmental factors, we do not focus on these specific processes in this review. Readers are referred elsewhere for excellent empirical evidence and theoretical discussions on these topics [33, 36, 38].
Despite the central role of WM in social cognition and in many, if not all, higher cognitive functions, the developmental tract of WM and the often reported executive function problems, few researchers have studied WM functioning in adolescents with ASD. Theory of mind deficit hypotheses, weak central coherence account, and the executive dysfunction theory all focus on certain symptoms of ASD (see Additional file 1) but fail to explain the broad spectrum of symptoms found in ASD. Also other theories have been proposed that try to explain ASD symptomatology, such as the mirror neuron theory (for a review see [39]) and the mnesic imbalance theory [40]; however, evidence for these theories is still inconclusive. A more recent hypothesis proposed by Happé and Ronald suggests that no single unitary account will be able to explain both social and non-social features of ASD. Instead they propose a fractionable triad approach, stating that, phenotypically and genetically, variations in (the triad of) social impairments, communication difficulties, and repetitive interests and behavior, are considerably independent [41, 42]. Although we agree with Happé and Ronald that no unitary account will be able to explain the broad phenotype of ASD, we disagree that cognitive deficits (such as WM deficits) would not be able to explain the social side of the triad of symptoms [42]. The underlying mechanisms of this disorder are still unknown and, considering the impact of ASD on many peoples' lives, new ways to access the cognitive and behavioral problems associated with ASD are needed. Deficits in WM and inhibition are central to many theories of developmental psychopathology [12] and earlier research strongly suggests relationships between WM capacity impairment and cognitive and social problems in adolescents with ASD, attention deficit hyperactivity disorder (ADHD), traumatic brain injury, and young adults with schizophrenia [12, 24, 43–45]. Bull and colleagues [46] found that executive processes, including WM, are required in both simpler and complex theory of mind tasks, underlining the role of WM in social skills. These findings may shed new light on what may be the underlying mechanisms of autism.
This review will focus on the neuropsychological results of WM studies in HFA, as well as the possible correlates with neuroimaging studies in high-functioning adolescents with ASD.
Conclusions
Despite years of research and numerous studies, the cause and underlying mechanisms of ASD are still under debate. Finding a cause, or at least gaining more insight into the mechanisms behind this disorder, is still a key issue for understanding autism and for designing treatments. These findings are highly relevant, especially given the impact of this disorder on everyday functioning, and the increase in the number of individuals diagnosed with ASD.
Besides the well-known triad of problems, many people with ASD experience problems in executive functioning. Given the central role of executive functions in both higher and lower cognitive processes, problems in these functions could provide a good explanation for the symptoms seen in ASD. As WM is generally seen as a central process in many, if not all executive functions, we conclude that it is highly plausible that WM plays a leading role in the symptoms seen in ASD. To date, however, cognitive studies have failed to give conclusive evidence about the relationship between (in particular, spatial) WM functioning and the symptoms seen in high-functioning adolescents with ASD. WM has different components and one can argue that the mixed results were caused by the diversity of the tasks and the different WM mechanisms that were investigated. Nevertheless, in most studies even with different designs, WM problems increase when tasks impose heavier demands on WM. Thus the complexity of the information to be processed, rather than the specific content of the information to be processed, seems to play a decisive role in whether or not spatial WM problems are found in high-functioning adolescents with ASD.
Executive functions in general and WM processes in particular are generally linked to the functioning of the prefrontal cortex. This assumption is supported by functional MRI research, which shows a WM network containing parts of the prefrontal cortex and parietal cortex. In high-functioning adolescents with ASD, previous results seem to indicate a global WM processing or connectivity deficiency, instead of a more focused deficit limited to the prefrontal cortex. Atypical activation patterns found in both the posterior and prefrontal areas support this theory. Structural neuroimaging studies point to an even more global connectivity problem in an autistic brain.
fMRI also has limitations that should be taken in account. These limitations are mainly due to the complicated brain circuitry and functional networks that create neuronal mass activity as represented by the hemodynamic signal. This mass activity and the complicated differentiation between activation patterns imply that any results need to be interpreted with caution. Nonetheless, fMRI still represents an excellent tool, one that is currently available for gaining more insights into brain function; combining fMRI results with the results from behavioral studies should give better insights into the background, differences, and similarities of various psychological and psychiatric disorders.
In our opinion, future studies should concentrate more on combining research methods. This may give researchers and clinicians more insight into the relationships between behavior, cognition (inside and outside the laboratory), and the functional integrity of the brain. Moreover, studying behavior, cognition, and the brain in the same cohort will make it easier to interpret fMRI results and the effect of (dys)functional neural networks on everyday living and potential compensation strategies. These insights may help researchers and clinicians to develop and use better intervention techniques for this group of important pervasive developmental disorders.
Abbreviations
ADHD:

Attention deficit hyperactivity disorder
AS:

Asperger syndrome
ASD:

Autism spectrum disorders
DLPFC:

Dorsolateral prefrontal cortex
DSM-IV:

Diagnostic and Statistical Manual of Mental Disorders 4th Edition
EF:

Executive function
fMRI:

Functional magnetic resonance imaging
FW:

Finger windows
HD:

Hyperkinetic disorder
HFA:

High-functioning autism
LFA:

Low-functioning autism
MRI:

Magnetic resonance imaging
NR:

Not recorded
ODR:

Oculomotor delayed response task
PDD-NOS:

Pervasive developmental disorder-not otherwise specified
POP:

Preparing-to-overcome prepotency
SoP:

Self-ordered pointing task
SS:

Spatial span
SWM:

Spatial working memory
TS:

Tourette syndrome
TYP:

Typical development
VSSP:

Visuospatial sketchpad
WM:

Working memory.
Declarations
Acknowledgements
This study was funded by the Special Education School de Berkenschutse in Heeze. RPCK was funded by a VIDI innovational grant from the Netherlands Organisation for Scientific Research (NWO, no. 452-08-005).
Authors' Affiliations
(1)
Department for Research and Development, Kempenhaeghe, Expertise Centre for Epileptology, Sleep Medicine and Neurocognition, Heeze, The Netherlands
(2)
Department of Neurology and School for Mental Health and Neuroscience (MheNS), Maastricht University Medical Centre, Maastricht, The Netherlands
(3)
Department of Radiology, Maastricht University Medical Center, Maastricht, The Netherlands
(4)
Special Education School de Berkenschutse, Heeze, The Netherlands
(5)
Donders Institute for Brain, Cognition and Behaviour, Radboud University Nijmegen, Nijmegen, The Netherlands
(6)
Department of Medical Psychology, Radboud University Nijmegen Medical Centre, Nijmegen, The Netherlands
Copyright
© Barendse et al.; licensee BioMed Central Ltd. 2013
This article is published under license to BioMed Central Ltd. This is an Open Access article distributed under the terms of the Creative Commons Attribution License (http://creativecommons.org/licenses/by/2.0), which permits unrestricted use, distribution, and reproduction in any medium, provided the original work is properly cited.