Parental phonological memory contributes to prediction of outcome of late talkers from 20 months to 4 years: a longitudinal study of precursors of specific language impairment
Journal of Neurodevelopmental Disorders
2012
4:3
Received: 30 August 2011
Accepted: 8 February 2012
Published: 8 February 2012
The Erratum to this article has been published in Journal of Neurodevelopmental Disorders 2015 7:16
Abstract
Background
Many children who are late talkers go on to develop normal language, but others go on to have longer-term language difficulties. In this study, we considered which factors were predictive of persistent problems in late talkers.
Methods
Parental report of expressive vocabulary at 18 months of age was used to select 26 late talkers and 70 average talkers, who were assessed for language and cognitive ability at 20 months of age. Follow-up at 4 years of age was carried out for 24 late and 58 average talkers. A psychometric test battery was used to categorize children in terms of language status (unimpaired or impaired) and nonverbal ability (normal range or more than 1 SD below average). The vocabulary and non-word repetition skills of the accompanying parent were also assessed.
Results
Among the late talkers, seven (29%) met our criteria for specific language impairment (SLI) at 4 years of age, and a further two (8%) had low nonverbal ability. In the group of average talkers, eight (14%) met the criteria for SLI at 4 years, and five other children (8%) had low nonverbal ability. Family history of language problems was slightly better than late-talker status as a predictor of SLI.. The best predictors of SLI at 20 months of age were score on the receptive language scale of the Mullen Scales of Early Learning and the parent's performance on a non-word repetition task. Maternal education was not a significant predictor of outcome.
Conclusions
In this study, around three-quarters of late talkers did not have any language difficulties at 4 years of age, provided there was no family history of language impairment. A family history of language-literacy problems was found to be a significant predictor for persisting problems. Nevertheless, there are children with SLI for whom prediction is difficult because they did not have early language delay.
Keywords
Specific Language ImpairmentVineland Adaptive Behavior ScalesExpressive VocabularyLanguage MeasureTypical Development Group
Background
The ease and speed with which children master their native language has been widely commented on, most memorably by Pinker ([
1
]. p. 29), who noted: 'In general, language acquisition is a stubbornly robust process; from what we can tell there is virtually no way to prevent it happening short of raising a child in a barrel'. Nevertheless, there is a fairly wide spread of ages at which mastery of first words and sentences occurs (Figure
1
), with children in the 10th centile (that is, top end) of language development talking in sentences at 18 months of age, and those in the 90th centile producing at most a handful of single words at this age [
2
]. The study of Neligan and Prudham, although old, is valuable because it was based on all children born in a large English city (Newcastle upon Tyne) over a 2-year period. Figure
1
also illustrates the skew in the distribution of age at first words: the difference between the 3rd and 50th centiles is around 4 months, whereas the difference between the 50th and 90th centiles is twice as large.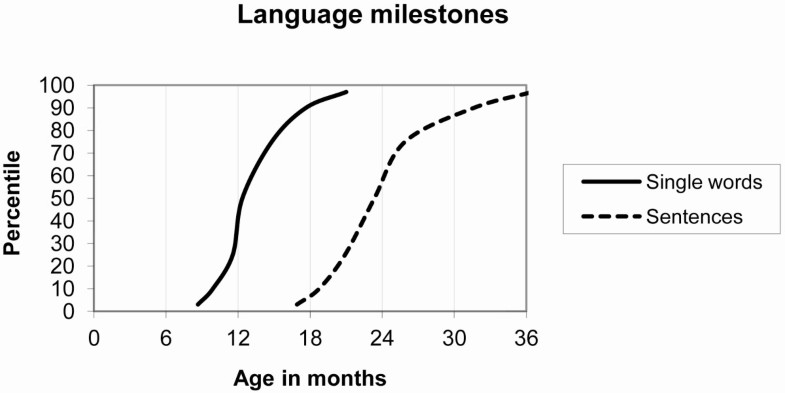 We know that in some children, a late start in language acquisition is a harbinger of long-term problems. Delay in language milestones is a common reason for parents to consult a physician, and can be the first indication of a serious problem such as severe hearing loss, nonsyndromic intellectual retardation or autistic disorder [3, 4]. Furthermore, children who are subsequently diagnosed with specific language impairment (SLI) in the absence of other developmental difficulties were usually late talkers. For instance, in a study of children at a residential school for those with specific speech and language impairments, Haynes and Naidoo [5] found that only 12% had produced their first words by 17 months of age. Parents of children with SLI often complain that their early concerns were not taken seriously, and that they are told that the child would 'grow out of it'. This view has been articulated in a UK government report into provision for children with speech and language difficulties [6].
On the other hand, there is evidence that many late talkers do 'grow out of it', and catch up with their peers after a slow start, provided their language delay is not associated with other developmental difficulties. This conclusion is indicated by a simple consideration of base rates, that is, the relative frequency of late talkers and SLI in the population. We can see from the norms in the study of Neligan et al. [2] that around 10% of children have not produced their first words by 18 months of age. Severe SLI, of the kind studied by Haynes and Naidoo [5], probably affects around 3% of children at most, and the data from this study indicate that 88% of these children had not produced first words by 18 months, which we will take as our definition of 'late talker'. This means that in a population of 1000 children, we will expect there to be 100 late talkers and 30 children with severe SLI. Of the 30 children with severe SLI, 88%, that is, 26 children, will be late talkers, but this means that three out of four late talkers will not have severe SLI. This example could be criticized because the predictions depend so crucially on the estimated prevalence of SLI, and that in turn depends on severity. However, there is also empirical evidence to support the idea that most late talkers do not have adverse outcomes.
'Late bloomers'', that is, children who make good progress in language after a slow start, are well-documented in the literature. For instance, one study followed 26 children aged 2 years old, who were recruited because their parents reported that they understood complete sentences but could say only a few words [7]. Five months after the initial assessment, around one-third of the children still had problems, one-third had made some improvement, and one-third were in the normal range. Another study followed 10 children who scored in the bottom 10% for expressive vocabulary at the ages of 18 to 29 months [8]. One year after initial assessment, six had 'caught up', but the remaining four still had delayed language. Similar figures were reported by Rescorla and Schwartz [9], who followed up 25 boys who had specific expressive language delay when first seen at 24 to 31 months of age. By follow-up at 3 to 4 years old, ten boys no longer had impaired language and two of these were above average in their utterance length. However, the remaining 15 children still had significant language delays. Although the proportion of late talkers who have clinically significant language impairment appears to decline with age [10], some children fail to catch up, and still have persisting problems well into middle childhood: for instance, Moyle et al. [11] reported that 37% of late talkers were receiving speech and language therapy (SALT) at 5 years of age, and Rice et al. [12] found that around 20% of late talkers had language impairment at 7 years of age. Measures of morphosyntax appear to be particularly sensitive in revealing persisting language deficits in late talkers [12, 13].
Such findings pose a quandary for those who carry out intervention with language-impaired children. In general, it is recognized that early intervention is desirable, insofar as it may help avert secondary social, emotional, or behavioral difficulties that can develop in response to communication failure. There is also a biological argument in favor of early intervention, namely that it is easier to influence the trajectory of development while the brain is still plastic. An analogy may be made with vision; it is well-recognized that amblyopia ('lazy' eye) needs to be corrected early in life, otherwise neural pathways subserving vision do not develop normally, and the potential for good vision in the 'lazy' eye is lost [14]. In the domain of language, there are no animal models, but evidence for a sensitive period comes from second-language learning, where native-level proficiency becomes harder to achieve with age [15]. In addition, Lenneberg [16] argued that ability to develop normal language after a left-hemisphere brain injury declined throughout childhood. Both sets of findings suggest that it may be difficult to learn language once patterns of brain connectivity have become entrenched.
Despite the evident advantages of early intervention, matters are complicated by the phenomenon of 'late bloomers'. On the one hand, it is undesirable to offer therapy to a child who will make good progress in their own time, especially if intervention resources are scarce and costly. Furthermore, more harm than good may result if a parent is made anxious, or the child is made to feel self-conscious or abnormal, when their development is likely to move within the normal range spontaneously. What is needed, therefore, is a way to distinguish between late talkers who are just late bloomers, and those who are at high risk of long-term problems.
Dale et al. [17] found that although parental report of language skills at 2 years of age was significantly related to language outcome at 3 or 4 years, classification of outcome for individuals was far too inaccurate to be clinically useful. Furthermore, those whose language difficulties persisted were not necessarily those with the poorest scores at 2 years. O'Hare [18] noted the recommendation of the UK National Screening Committee Child Health Subgroup on speech and language delay, which stated that, because isolated expressive language delay presenting before the age of 3 years has a good prognosis, an approach of watchful waiting was appropriate unless the parent was very worried. More recently, Paul and Roth [19] reviewed the literature on this question, concluding that 75% of children identified as late talkers at 18 months of age will move into the normal range on standardized language measures by 3 years of age. They proposed a number of 'red flags' that clinicians should note as predictive of poor outcome in late talkers, including presence of delays in comprehension and expression, and a family history of language delays or reading problems. This does not necessarily mean that catch-up is complete in other children. As shown in series of follow-ups, late-talking middle-class children with purely expressive delays at 2 years may continue to do poorly relative to high-performing SES-matched controls, but by school age and beyond most of these children will obtain language and literacy scores well within normal limits [20].
Since Paul and Roth's review, two large-scale epidemiological studies have been published on this topic. These studies, like the earlier population studies of Rice et al. [12] and Westerlund et al. [21], have confirmed the very varied outcomes of late talkers, with most of the children identified as late talkers at 2 years moving into the normal range over the next year or two. Although significant predictors were found, the accuracy of prediction of outcome in individual cases was fairly weak. In the Generation R Study [22], Henrichs et al. used a short Dutch version of the MacArthur Communicative Development Inventory (CDI), and found that, although there were highly significant correlations between expressive vocabulary at 18 months and 30 months, the sensitivity and specificity of late-talker status was very poor at predicting language status at 30 months, and inclusion of parental, perinatal, and demographic variables did not substantially improve prediction. The poor prediction was not only due to the numbers of late talkers with good outcome; the sample also included notable numbers of children who appeared to have language impairment at 30 months of age, but who had not shown signs of language delay at 18 months. In the second of these studies, the Early Language in Victoria Study (ELVS), parental report of language development was obtained at 2 years of age, with follow-up assessments of language and nonverbal skill at 4 years of age, for 1596 children in Melbourne, Australia [23]. The data at 4 years of age were used to identify children with SLI, using the criteria of a score more than 1.25 SD below the mean on the Clinical Evaluation of Language Fundamentals - Preschool 2 and of nonverbal ability within 1.25 SD of the mean. Children with English as a second language, autism, or hearing loss were excluded. Predictors of SLI status were first examined without considering language status at 24 months; significant predictors were male gender, maternal education, socioeconomic status, family history of speech and language problems, and maternal vocabulary. Prediction was improved when late-talking status at 2 years was added to the regression model, but it was not stated what proportion of late talkers met the criteria for SLI. It is noteworthy that this study found that a family history of language or literacy impairment was a significant predictor of outcome, consistent with smaller-scale studies investigating outcomes of children with a family history of dyslexia [24] or SLI [25].
In the current study, we performed an in-depth assessment of a sample of 20-month-old children, enriched with late talkers, who were then given an assessment at 4 years of age to identify those meeting the criteria for SLI. Our goal was to see whether it would be possible to predict which late talkers would have good language outcomes, and whether including assessments of parental language skills would improve the predictive power.
Conclusions
Overall, our results join others in the literature in suggesting that 18 to 20 months of age may be too early for effective screening for language problems because individual children can show rapid acceleration of language skills around this age. Furthermore, some children develop language difficulties by 4 years of age despite normal early vocabulary development. Follow-up studies of older toddlers may help us uncover the optimal age at which to identify children at risk for language difficulties, while minimizing false positives.
List of abbreviations used
BAS:

British Ability Scales
CCC-2:

Children's Communication Checklist, version 2
ELVS:

Early Language in Victoria Study
FH+:

positive family history
GAPS:

Grammar and Phonology Screening Test
GCC:

General Communication Composite
LNV:

low nonverbal
NLI:

nonspecific language impairment
OCDI:

Oxford Communicative Development Inventory
PIQ:

Performance Intelligence Quotient
SALT:

speech and language therapy
SLI:

specific language impairment
TD:

typical development
TEGI:

Test of Early Grammatical Impairment
VABS:

Vineland Adaptive Behavior Scales
WPPSI:

Wechsler Preschool and Primary Scale of Intelligence.
Declarations
Acknowledgements
We are extremely grateful to the families who gave generously of their time to make this study possible. This work was funded by Wellcome Trust Programme Grant 053335.
Authors' Affiliations
(1)
Department of Experimental Psychology, University of Oxford, Oxford, UK
Copyright
© Bishop et al; licensee BioMed Central Ltd. 2012
This article is published under license to BioMed Central Ltd. This is an Open Access article distributed under the terms of the Creative Commons Attribution License (http://creativecommons.org/licenses/by/2.0), which permits unrestricted use, distribution, and reproduction in any medium, provided the original work is properly cited.